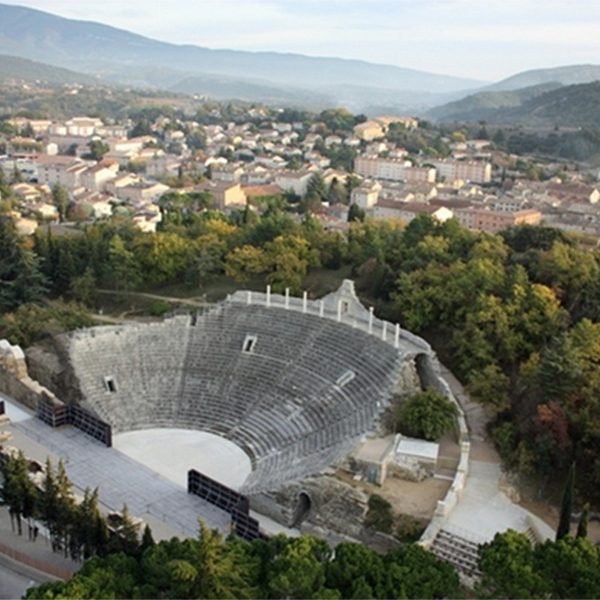 What's on in Vaison in 2021 ?
16 April 2021: "Rendez-vous musical au Printemps"
25 April: Les Fleuralies
8 and 9 May: Roman Days "Discovering the Empire"
Pentecost (from Saturday 22nd to Monday 24th May): Grand Corso de Pentecôte and funfair
4 to 6 June: Astronomy Festival
8 June: CIC Mont-Ventoux: pro cycling race
13 June: Lapierre – GF Mont-Ventoux, international cyclosportive race from Vaison-la-Romaine to the summit of the Géant de Provence
21 June: "Fête de la musique"
26 June: Terroirs en Fête / local producers in the spotlight
29 June: Musical "Les Franglaises" by the CHAM classes
3 July: Concert "Chorale – les Cœurs de France"
5 and 6 July: Concert by Francis Cabrel (postponed until 2020)
7 July: Concert by Patrick Bruel
10 July: Vaison Danses (6 shows)
14 July: Fair and fireworks
27 July to 31 August: Festival "les Nuits Cigales"
29 July: Concert by Les Ogres de Barback and La Rue Kétanou
30 July: Hip-Hop evening
01 august : Evening at the Antique
August 4: Cover Queen concert
6 August: Muriel Robin show
7 August: Christophe Maé concert
15 August: Big funfair and fireworks
18 and 19 September: Heritage Days
9 to 27 October: Georges Brassens Festival
Every Tuesday morning, a large Provencal market in the streets of the town.
Every Saturday morning, a market of local producers
Many concerts and cultural events in the surrounding villages.
More information on www.vaison-ventoux-tourisme.com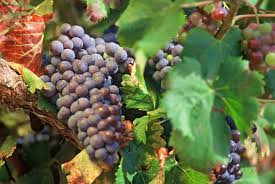 Near Vaison-la-Romaine...
2 April: "An Irish Story" show in Rasteau, as part of the Village Drama Centres festival
17 April : Irish music concert "Dirty Old Tune" in Rasteau
25 April : Guided tour of the village of Mollans sur Ouvèze "the walls of history
7 May : Concert French Song "Gainsbourg confidentiel" in Rasteau
21 May : World Music Concert "Namogo" in Rasteau
Ascension Weekend: Vine and Wine Festival in Vaucluse
7th July: 11th stage of the Tour de France with 2 climbs of the Giant of Provence (the 1st by Sault, the 2nd by Bédoin)
Beginning of July: Book days in Sablet – Meetings, conferences, dedications…
14 August: Wine Night in Rasteau
15 August: Lavender Festival in Sault
End of August: Monteux Fireworks – Fireworks show and entertainment
Numerous conferences and themed weekends in the inter-communal area,
More information: http://www.vaison-ventoux-tourisme.com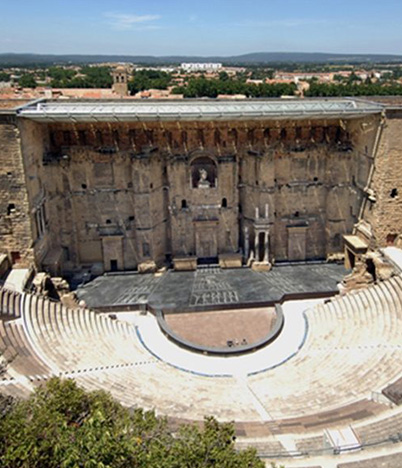 Don't miss this in Orange!
The Roman Theatre of Orange, built under the reign of Augustus in the first century AD by veterans of Julius Caesar's second legion, is one of the best-preserved Roman theatres in the world. Its impressive exterior wall with the original façade (103 m long and 37 m high) still stands today.
The theatre has hosted the Roman Festival every summer since 1869, together with the Chorégies d'Orange and New Chorégies opera festivals since 1902 and 1971 respectively.
Every winter since 1891, a festival has been held for lovers of ancient artwork.
Since 2002, the town of Orange, the owner of the monument, has entrusted the company Culturespaces with the management and promotion of the theatre.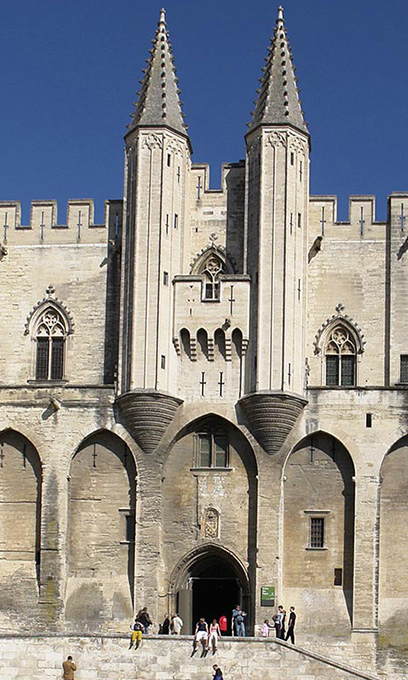 Avignon and its theatre festival!
The Avignon theatre festival is world-renowned, attracting visitors from across the globe to the courtyard of the Papal Palace and other locations around the city (theatres etc.). You can attend official performances by booking in advance, as well as the many other shows that sweep the city as part of the "Off" festival.
The Avignon Festival in July: The Festival's mission is to showcase works of contemporary French and international theatre and dance, and the performing arts in general, by putting on around 40 performances each year.
Avignon's cultural life doesn't end with the theatre festival, you can also attend the following events:
The Avignon Jazz Festival at the start of August
The Avignon/New York Film Festival
The Avignon Film Festival (for independent films) in June