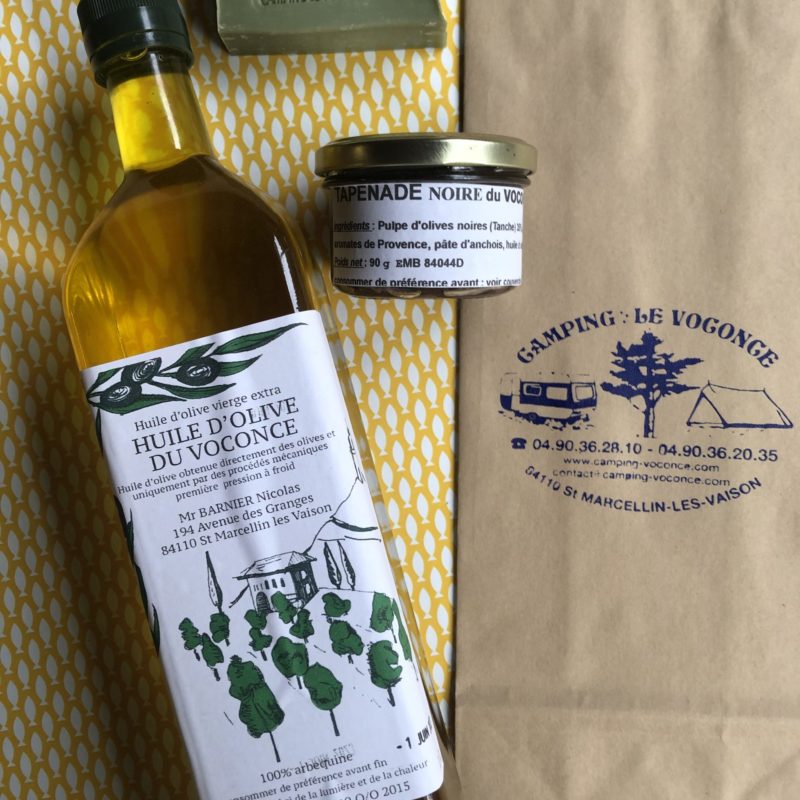 Local and seasonal products for direct sale
You will find a maximum of local and seasonal products on sale directly or at the bar and snack bar :
Olive oil from Voconce, from our family production
Tapenade, sale of olives from our family production and local producers
Apricot nectar from local producers
Honeys and jams
Soaps made from olive oil
Organic craft beers from local micro-breweries Taka and Bivouak
Fair trade, organic and locally roasted coffees
Organic and local teas and herbal teas
Vegetables and fruits from the garden, according to the season
Wines from the cooperative cellar of Vaison la romaine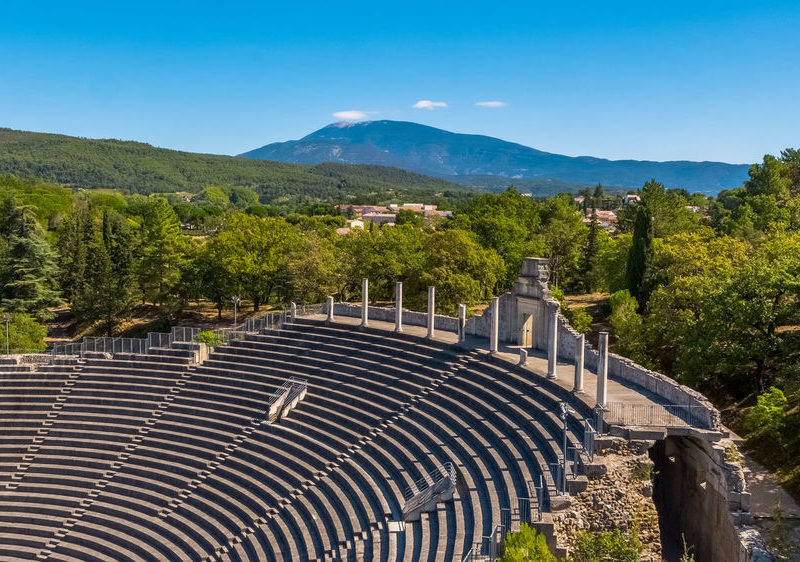 What's on in Vaison in 2023 ?
From March 18th to April 15th : Festival (bien) Après les Vendanges. For more info : HERE
April 1 : The Springtime of urban arts
May 8: Les Fleuralies, big flower market, Place Burrus Vaison la Romaine.
May 26-27-28 : Arts and Crafts Fair
May 27 and 28: Pentecost Corso and fair
June 11 : Lapierre – GF Mont-Ventoux, International cyclosportive race from Vaison-la-Romaine to the top of the Géant de Provence
June 17 : Gala of the intercommunal dance school at the Théâtre Antique
June 21 : Fête de la Musique
June 23 : Terroirs en Fête / Local producers honored
June 23: Gala of the intercommunal school of music at the Théâtre du Nymphée
June 24 : Show of Redouane Bougheraba at the Théâtre Antique. Stand-up
June 30 : Maxime Gasteuil's show at the Théâtre Antique
July 5 : Renaud's concert at the Théâtre Antique
July 7 : Terroirs en Fête / Local producers honored
July 7 : Louane concert at the Théâtre Antique
From July 11 to 26 : Vaison Danses Festival. For more information : HERE
July 14 : Fair and fireworks
July 20 : La Nuit de Bacchus : wine tasting and activities in the Roman excavations
July 21 : Terroirs en Fête / Local producers in the spotlight
From August 2 to 16 : The Antique Evenings (free concerts and shows in the antique theater)
August 15th : Big fair and fireworks
August 18 : Terroirs en Fête / Local producers in the spotlight
September 16 and 17 : Journées du Patrimoine (Heritage Days)
October 5 : Festival à l'Accordage – Musical meetings
October 14 and 15 : Lego and Playmobil show at the Cultural Space
Every Tuesday morning, a large Provencal market in the streets of the city.
Every Saturday morning, a market of local producers on the place Burrus
Every first Sunday of the month: Vaison Art Days, on the Place Montfort
Many concerts and cultural events in the surrounding villages.
More information on www.vaison-ventoux-tourisme.com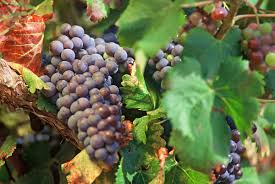 Near Vaison-la-Romaine... in 2023
16 and 17th July:  Book days in Sablet – Meetings, conferences, dedications…
4th, 5th and 6th August : Font'Arts Festival, street art festival in Pernes les Fontaines
14 August: Wine Night in Rasteau
15 August: Lavender Festival in Sault
End of August: Monteux Fireworks – Fireworks show and entertainment
Numerous conferences and themed weekends in the inter-communal area,
More information: http://www.vaison-ventoux-tourisme.com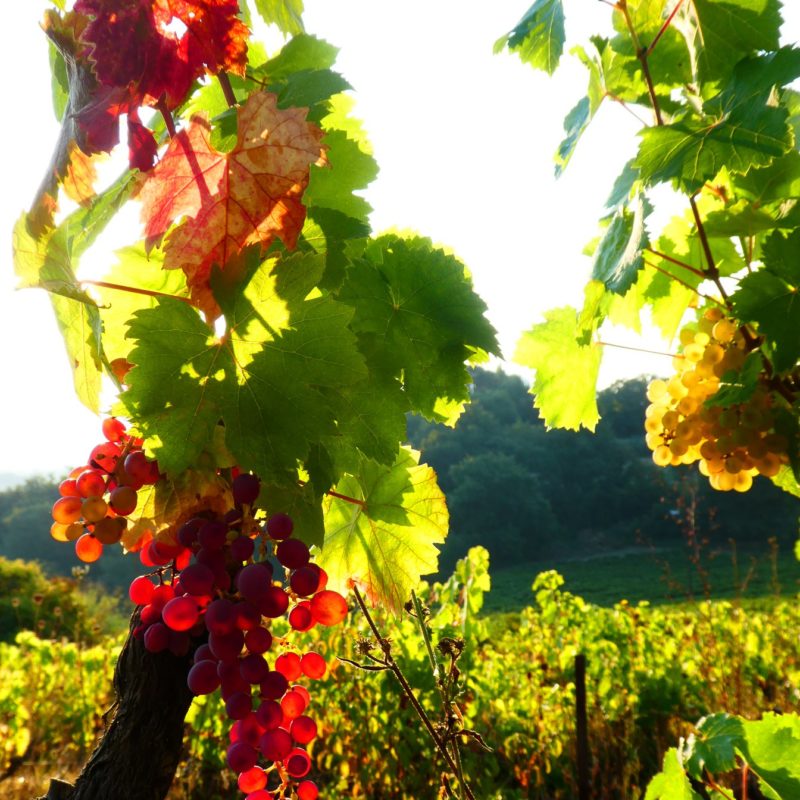 Eno-tourism
Winegrower-cooperators for three generations in the cooperative cellars of Vaison-la-Romaine, Puyméras, and labeled Camping Bacchus, and producers of olive oil, we offer in September and October visits of cellars and half-days of discovery of wine work, manual and mechanical grape harvests, visits of olive groves…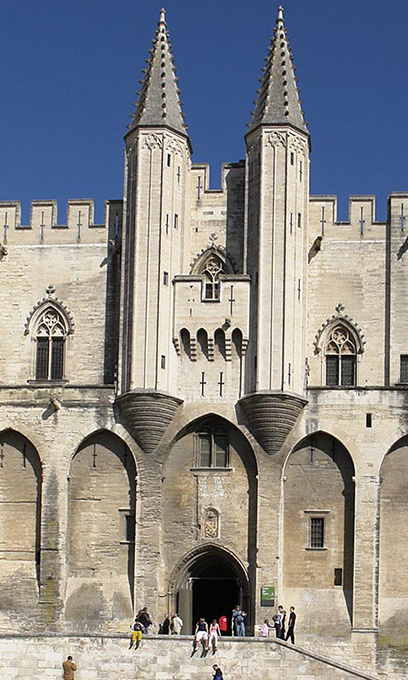 Avignon and its theatre festival!
The Avignon theatre festival is world-renowned, attracting visitors from across the globe to the courtyard of the Papal Palace and other locations around the city (theatres etc.). You can attend official performances by booking in advance, as well as the many other shows that sweep the city as part of the "Off" festival.
The Avignon Festival in July: The Festival's mission is to showcase works of contemporary French and international theatre and dance, and the performing arts in general, by putting on around 40 performances each year.
Avignon's cultural life doesn't end with the theatre festival, you can also attend the following events:
The Avignon Jazz Festival at the start of August
The Avignon/New York Film Festival
The Avignon Film Festival (for independent films) in June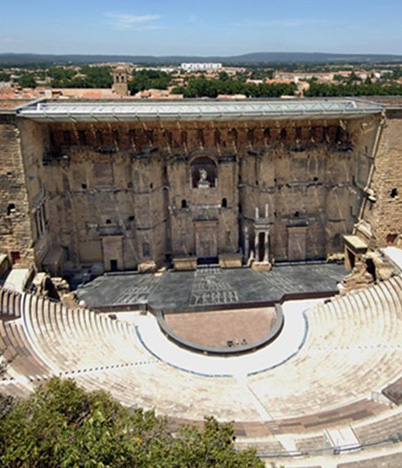 Don't miss this in Orange!
The Roman Theatre of Orange, built under the reign of Augustus in the first century AD by veterans of Julius Caesar's second legion, is one of the best-preserved Roman theatres in the world. Its impressive exterior wall with the original façade (103 m long and 37 m high) still stands today.
The theatre has hosted the Roman Festival every summer since 1869, together with the Chorégies d'Orange and New Chorégies opera festivals since 1902 and 1971 respectively.
Every winter since 1891, a festival has been held for lovers of ancient artwork.
Since 2002, the town of Orange, the owner of the monument, has entrusted the company Culturespaces with the management and promotion of the theatre.